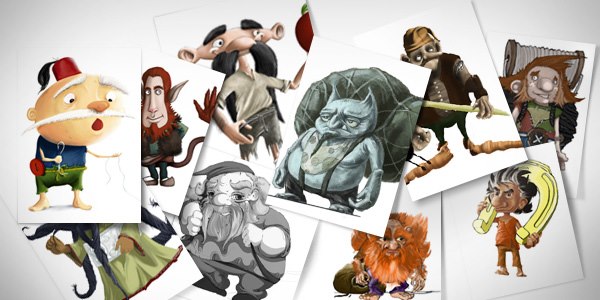 Today we'd like to tell you about one more character, the one who lives in the wagon, considers it his own home and would never exchange it for any riches. Meet – The Brownie from the Wagon
.
What makes this character really interesting is not just his biography, but the fact that there are several of them.
- How could this be? – you may ask.
- Very simple.
His appearance and biography was invented not by our artists, but by the students of our school of computer graphics. The elaboration of a character was one of the tests that the students had to pass in the course of studies. In general, the task was as follows:
To invent a character
To tell his story without missing any details
To show the character from different sides
So the test is passed, the marks are given, let's look what came out of it.
1. Mustyatsa Oleg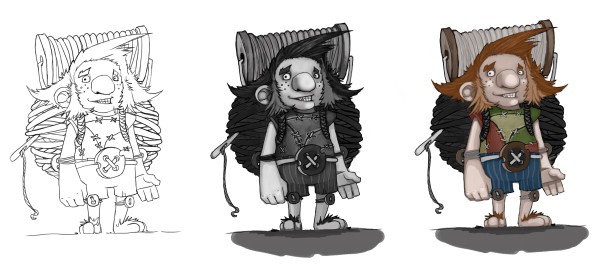 This brownie comes from a family of skilled tailors. When his masters were overwhelmed with work, the brownie furtively helped them and the work progressed. But a great fire destroyed everything and the bogie set off to look for a new home. He was picked by wandering gypsies. At first the brownie planned to get to a big city, but he was amazed by the variety and quality of fabric in gypsies' carts and decided to stay. Gypsies being sharp-witted people gave the brownie not only shelter and food, but a job as well- he sewed and repaired clothes for them.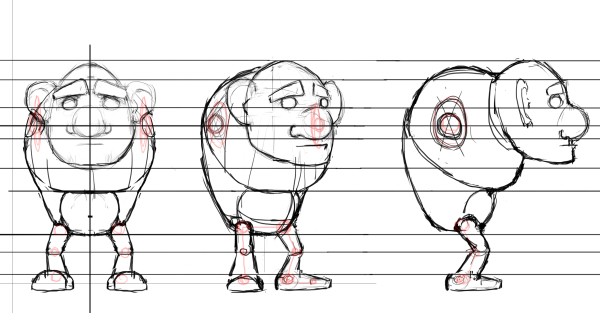 The brownie has his own nature as well. Occasionally he makes his masters some woven presents, but when somebody puts him out of temper, he can play pranks: sew sleeves to different clothes, stitch a hat to pants, or even take all threads out of clothes.
2.  Buga Alexey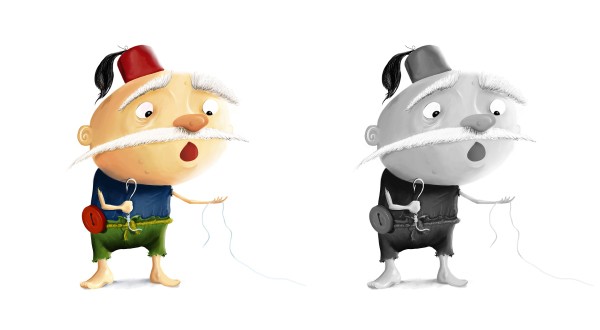 Grandpa Gili tells everyone that his name is translated as "song". He is naive, kind and always cheerful. Gili lived in a chest with fezzes with his masters who lived and worked in Morocco.  One day, when his hosts were sailing to Europe, Gili fell out of the chest. Grandpa got really scared, he seemed to have found the trunk, but it was the wrong one. The chest belonged to nomadic gypsies. They welcomed the old man with a fez, who was cheerful and liked to play the violin. Gili never loses hope to meet his masters again and in their memory he always wears a fez.
3. Fana Konstantin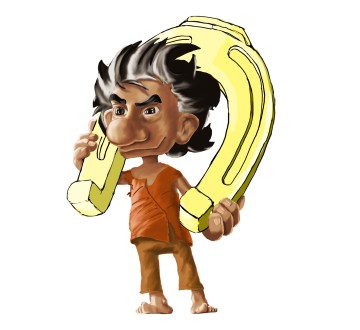 In the past this Elf lived and worked by one old farrier. They became good friends and the master decided to give Elf a horse as a gift. It should be said, that if the owner gives his Elf a horse (according to Elf Labour Code), the latter obtains freedom. But the farrier's horse ran away leaving just a shoe. Now Elf has to make a choice: either to stay at his friend's house or set out in search of a horse which he almost owned.  
4. Tihonchyuk Georgy
Phuro was so old that he lost count how old he really was. The brownie appeared on the Earth together with the first man, in the first cave with the first hearth. Since then he follows his masters. Phuro has a sack where he keeps things from his previous owners. He is naive, but wise, likes to joke, but his jokes are at the wrong moment; he adores his masters, but often does them an ill service.

Phuro gives his hosts a bell, when it rings Phuro appears. His house burned down and the brownie set out to wander. Now when he is not attached to a particular spot, the whole world is his home. So Phuro dreams to find out what the world looks like. 
5. Pistruga Elena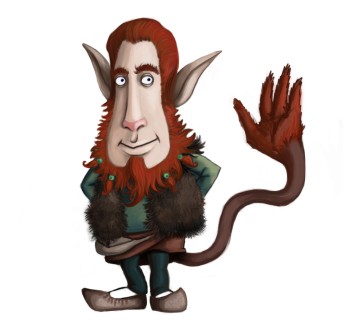 Grofo is a handsome man! He was known as a lady-killer among female brownies. He is red-haired, impulsive, but kind. Grofo is always eager for new adventures. But his tail seems to disagree with his owner. Grofo often talks to him asking for advice and respects his opinion as one day his masters left him when they moved to a new house and he remained alone.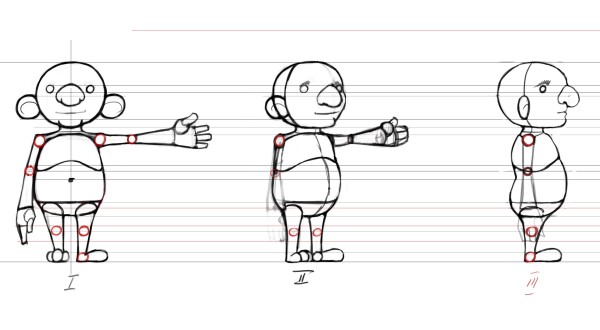 He has a great passion for beads and everything that shines. Grofo stole his mistress's bracelet in the hope that his masters would change their minds and return or at least come to take him. But it never happened. Grofo got very upset, wove the beads from the bracelet into his hair and wandered down the road, where he was picked by gypsies.
6. Kreshenko Pavel
l="attachment wp-att-4875″ href="http://blog.simpals.ru/archives/4865/aaca83f9-397d-47f8-8c61-436d87ef757f">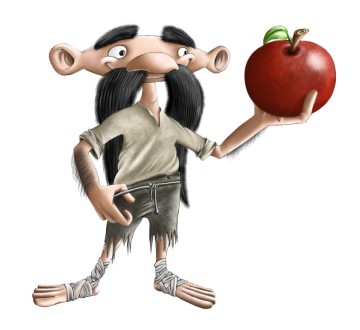 Georgie is a magic brownie.  He has magic hair and mustache. Why are they magic? According to a legend he is a great handyman! His mustache is as strong as a string, with its help he can sew or fix anything. His big feet just like another pair of hands help him to speed the work. His ears are real locators, so he hears the approaching danger from afar. 

The brownie has a fear. He is afraid of being caught by his masters when he'll try to steal their food. Actually the brownie is even more scared that the food will be stolen by the turkey Ilo, so they are always in conflict.
7. Danilesko Artyom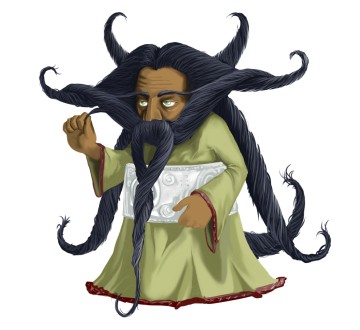 Old wise grandfather Cabello comes from the Iberian Peninsula. There his name means "a hair". He is a magician and a sorcerer, but a half-taught one, that's why his magic doesn't always work, sometimes it produces an opposite effect.
Cabello's hair is like a magic wand, it helps him to conjure, and depending on his mood and type of sorcery it acquires a particular form. The previous owners gave Cabello the most precious thing- a silver napkin ring. Since then Cabello has been striving to find out what kind of power this ring contains. 
8. Uskova Alexandra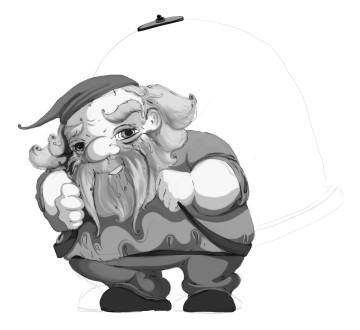 A long time ago out of dust and small rubbish a brownie was born behind an old stove. He was born old, with a magnificent beard and soft wrinkles. The stove gave him the name Grofo. While the brownie was growing up, the stove was telling him stories about people's life. Finally when little brownie came out from behind the stove and saw people he loved them immediately with all his heart. The time has come for the stove to go, dying she told the brownie about the magic cap which gave its owner great power, faith, hope and even answers to all questions. Grofo didn't believe her. "How can it be?? People must find strength in their family!" So Grofo went to look for a new home. Once he saved a cricket which was supposed to become frog's dinner. The cricket became his close friend. Together they looked for houses where sorrow lived. As soon as Grofo and the cricket gave the hosts strength and hope to live on they left the house. Only the cricket knew where the brownie found hope looking at his patched cap. 
9. Lopushansky Alexandr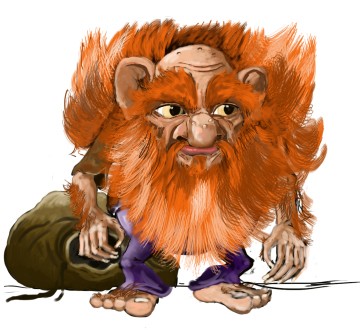 The main occupation of the Flame is to look after the household. Sometimes he can assume his master's appearance so that animals and birds were not afraid of him. He is a miser; all kinds of expenses make him very angry. He often grumbles, but in his heart he is caring and kind.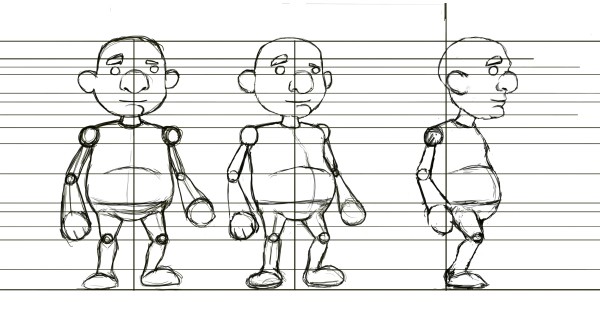 Overgrown with hair the Flame helps his masters in the house, he can warn of impending disaster, but he can also misbehave. He notices every little thing, strives to keep everything in order and at hand, he would often help a hard-working person and correct his mistake if needed.
10. Nechitaylo Irina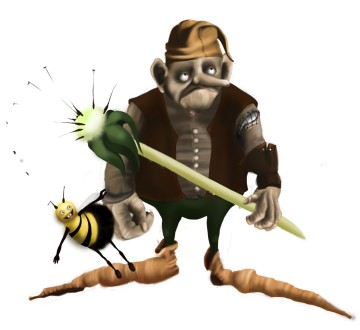 This is Palyulya. He has a rough appearance and a tender heart. Palyulya always wanted to be an ordinary human, but his height was less than an inch. The family, where Palyulya lived, truly loved him, however a brownie could never become what is called "a family member". As a result, God's wrath descended upon him. Palyulya was sent to roam. This way he met Gypsies. Palyulya was taciturn, he was afraid of strangers, so he prowled in the bushes most of the time where he met the talker Bumblebee. Quite a strange couple of swore friends, I must say. Gypsies used to say that Palyulya would bring them happiness, like no family had ever been given by a brownie.
So, you've seen the characters created by our students. Although the works have already been estimated and we made our choice, we'd like to know your opinion as well. Which of the characters do you like the most? We're waiting for your comments.